September's ISM Manufacturing (PMI) fell to a 50.9 reading from the 52.8 registered in August. While the manufacturing sector continues to expand, activity is at its lowest since the pandemic recovery began. The prices paid index dropped again – indicating less inflation. Of greater note, however, is the new orders index landing in contraction territory. This is often a leading indicator of future conditions.
Consumer Confidence retained last month's momentum, coming in at a 108 mark in September, a step up from August's 103.6. A robust job market, increasing wages, and declining gas prices supported the September data. Interest rates continue to inch up in an effort to tame inflation, which could very well dampen consumer spending in the coming months.
WTI Oil supplies continuing to catch up with demand and a strengthening U.S. dollar softened the price from $86.61/barrel on September 1st, to $79.49 per barrel at month end. As a result, OPEC is expected to convene a meeting to discuss production cuts, likely reversing the price trend for the balance of the year.
The online US Oil Rig Count is at 765 which is up 5 compared to last month's report and up 237 from October 1 of 2021 (a high of 1609 in October of 2014 before oil pricing dropped below $20 per barrel at the end of that year). This key and leading indicator shows the current demand for products used in drilling, completing, producing, and processing of hydrocarbons which all of us use every day as fuel sources and finished products.
Nickel regained some momentum in September. After beginning the month at a modest $9.33/lb., the commodity quickly raced up above the $11/lb. threshold by mid-month, stayed elevated for over a week, and then fell back to close the month at $9.57/lb. For comparison, September's average nickel price was $10.29/lb. while August checked in with a $9.98/lb. average.
Below is the 90 day Nickel Price Trend (US$ per tonne).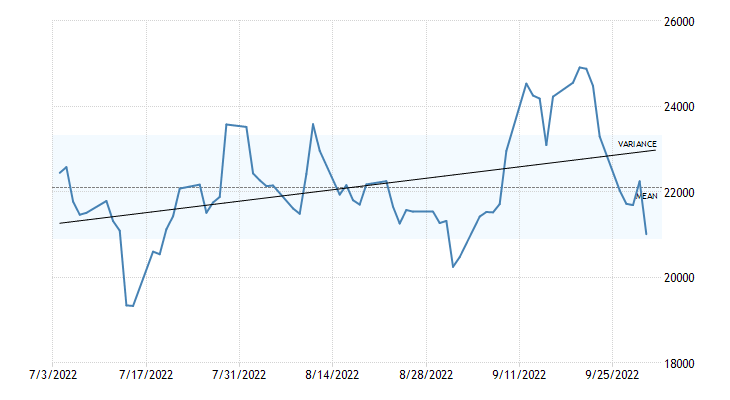 Domestic steel mills kept quiet in September, as they did in August, with no price movements on PVQ plate. Expect little noise unless there is a labor issue or geopolitical event (both possible).
Commodity stainless and Duplex plate deliveries remain in the 8 to 12 week range, while Nickel alloy plates range from 11 to 26 weeks. Carbon Steel plate mill deliveries reside in the 6 to 10 week delivery range.
Welded tubing –Stainless strip supply has stabilized, keeping smaller quantity deliveries in the 10 to 16 week range, with larger quantity orders still in the window of 18 to 25 weeks. Carbon steel tubing deliveries have lead times ranging anywhere from 12 to 20 weeks when strip is available. Welded nickel alloy tubing ranges from 16 to 26 weeks, with some cases of 30 week deliveries.
Seamless tubing – Current schedules reflect 10 to 22 weeks or more for carbon steel (26 to 30 weeks for Western European carbon seamless) and 10 to 30 weeks for stainless. Seamless nickel tubing is being offered at the 10 to 12 week delivery window so long as hollows are in stock. If hollows are not readily available, anticipate deliveries of seamless nickel tubing in the 20 to 32 week timeframe.
The metal market is still in a tremendous state of uncertainty and price volatility, so please don't hesitate to reach out if you have any questions.
Here's the current surcharge chart for 304/304LSS, 316/316LSS, 2205, C276, and 625.
Nickel Prices have had an interesting ride over the past two decades with a low of $2.20/lb. in October of 2001 (following September 11 events) and a high of $23.72/lb. in May of 2007. Surcharges trail Nickel prices by approximately two months, so they would have been at their lowest in December of 2001 (304 was $0.0182/lb.) with the peak in July of 2007 (304 was $2.2839/lb.).
The chart below illustrates Nickel price by way of U.S. Dollar per Metric ton.
Here's the Price Index for Hot Rolled Bars, Plate, and Structural Shapes.