The March ISM Manufacturing Index (PMI) reading fell to 57.1 from February's 58.6 mark. The slight decrease was largely attributed to supply chain constraints and higher price inputs. In something of a reversal, the labor situation has begun to improve, with hiring up and early retirements down. Moving forward, signs point to continued expansion in the manufacturing sector, albeit at a slower pace.
Consumer Confidence increased slightly in March, reaching 107.2 from a downwardly revised 105.7 in February. While inflation expectations (7.9% in February) are weighing on consumers, the strength of the labor market (3.8% unemployment) is acting as a counterbalance at present time. The headwinds of geopolitical unrest and inflation have the potential to hamper activity in the coming months.
WTI Oil went on a roller coaster ride in March, beginning at $103.41/barrel, rose into the $120s, dipped into the mid-$90s at mid-month, rocketed back into the $114 territory, and finally ended at $100.28 per barrel. That last closing price is notable as the commodity fell to that number after the U.S. announced that it will release 1 million barrels per day of oil from the Strategic Petroleum Reserve for the next 6 months to combat high oil (gas) prices. While this move will ease some pain at the pump, the structural issues in the oil market remain and pricing will stay elevated.
The online US Oil Rig Count is at 673 which is up 23 compared to last month's report and up 243 from April 1 of 2021 (high of 1609 in October of 2014 before oil pricing dropped below $20 per barrel at the end of that year). This key and leading indicator shows the current demand for products used in drilling, completing, producing, and processing of hydrocarbons which all of us use every day as fuel sources and finished products.
If we only told you that Nickel rose from $11.39/lb. at the start of March to close at $14.63/lb., we should have your undivided attention. That is exactly what happened and that price hasn't been seen in 15 years. If you read our mid-March update on Nickel, you know that there is so much more to the situation. At present, the price seems to have stabilized in the mid-teens. We should see more quote validity confidence in mills and distributors for stainless and nickel alloys as April progresses.
Below is the 90 day Nickel Price Trend (US$ per tonne).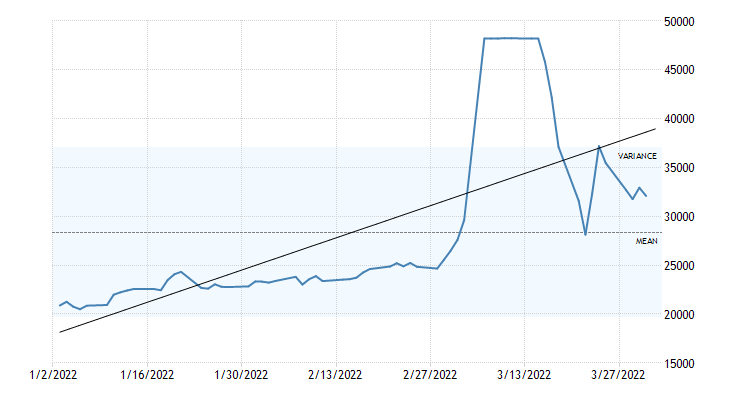 Nickel Prices have had an interesting ride over the past two decades with a low of $2.20/lb. in October of 2001 (following September 11 events) and a high of $23.72/lb. in May of 2007. Surcharges trail Nickel prices by approximately two months, so they would have been at their lowest in December of 2001 (304 was $0.0182/lb.) with the peak in July of 2007 (304 was $2.2839/lb.).
The chart below illustrates Nickel price by way of U.S. Dollar per Metric ton.
After a couple months of relative stability, domestic steel mills announced a $55 per ton price increase into the market at the end of March. Russia's shelling of a major Ukrainian steel mill, higher natural gas prices, and the ongoing supply chain crisis look to keep steel values elevated for the foreseeable future.
Commodity stainless and Duplex plate deliveries remain in the 8 to 11 week range, while Nickel alloy plates range from 15 to 26 weeks. The Special Metals labor impasse was settled in March. As a result, the nickel alloy plate delivery schedules should start to improve as the spring progresses. Carbon Steel plate mill deliveries continue to remain in the 8 to 12 week delivery range.
Welded tubing –Stainless strip supply is now somewhat better, allowing for some deliveries in the 10 to 16 week range, although larger quantity orders are in the window of 18 to 29 weeks. Carbon steel tubing deliveries have lead times ranging anywhere from 8 to 12 to 20 weeks when strip is available. Welded nickel alloy tubing ranges from 16 to 26 weeks, with some cases of 30 week deliveries.
Seamless tubing – Current schedules reflect 8 to 22 weeks or more for carbon steel (26 to 30 weeks for Western European carbon seamless) and 8 to 30 weeks for stainless. Seamless nickel tubing is being offered at the 10 to 12 week delivery window so long as hollows are in stock. If hollows are not readily available, anticipate deliveries of seamless nickel tubing in the 20 to 32 week timeframe.
The metal market is still in a tremendous state of uncertainty and price volatility, so please don't hesitate to reach out if you have any questions.
Here's the current surcharge chart for 304/304LSS, 316/316LSS, 2205, C276, and 625.
Industrial Metal Pricing – Year to Date Change Due War in Ukraine.