The ISM Manufacturing Index (PMI) reached 47.7 in February, slightly higher than we saw in January at 47.4 but it fell short of the projected 48. This is the fourth consecutive month of falling factory activity as companies continue to slow production, better to match the demand for the first half of 2023 and prepare for growth in the second half of the year. Companies still show they do not plan to substantially reduce headcount as they indicate positive outlooks for the year's second half. Price pressure was seen increasing (51.3 vs 44.5), which supports the agreement between buyers and sellers to place orders soon.
The Conference Board Consumer Confidence Index decreased in February for the second consecutive month to 102.9. The Present Situation Index ticked slightly up based on a more positive view on the availability of jobs, although the consumers' view of current business conditions worsened in February. 12-month inflation expectations improved, decreasing to 6.3 percent from 6.7 percent last month. Consumers may begin showing signs of pulling spending back due to the high prices and rising interest rates. Fewer consumers are planning to purchase homes, automobiles, and major appliances in the near future.
WTI Oil began February at $76.730 per barrel, then hit a low of $73.740 per barrel by the 3rd, and peaked at $80.330 per barrel on the 13th. By the end of February oil landed at $77.050 per barrel, resembling a similar path as seen in January. There is speculation that the reopening of China, the world's second-largest oil consumer, could not spur the demand initially though after Premier Li Keqiang announced a GDP target of 5% for China in 2023 during the annual National People's Congress. Lastly, the US Federal Reserve is causing investors to fret as there is prospect of further monetary tightening in hopes of bringing inflation back down to target.
The online US Oil Rig Count is at 749 which is down 10 compared to last month's report and up 99 from March 4 of 2022 (a high of 1609 in October of 2014 before oil pricing dropped below $20 per barrel at the end of that year). This key and leading indicator show the current demand for products used in drilling, completing, producing, and processing of hydrocarbons which all of us use every day as fuel sources and finished products.
Nickel trended down the entire month of February, entering at $13.196 per pound and ending the month at $11.154 per pound. This is the lowest we have seen nickel since November of 2022. Investors are still worried of a global recession, even though China is reopening, and several processing companies are ramping up production. The supply side of nickel has flipped from deficit to surplus in 2022 according to the International Nickel Study Group. Indonesian production increased almost 50% from a year earlier, accounting for nearly 50% of global supply. On the flip side, there is still talk of the Philippines possibly beginning to tax nickel exports, causing some uncertainty.
Below is the 90 day Nickel Price Trend (US$ per tonne).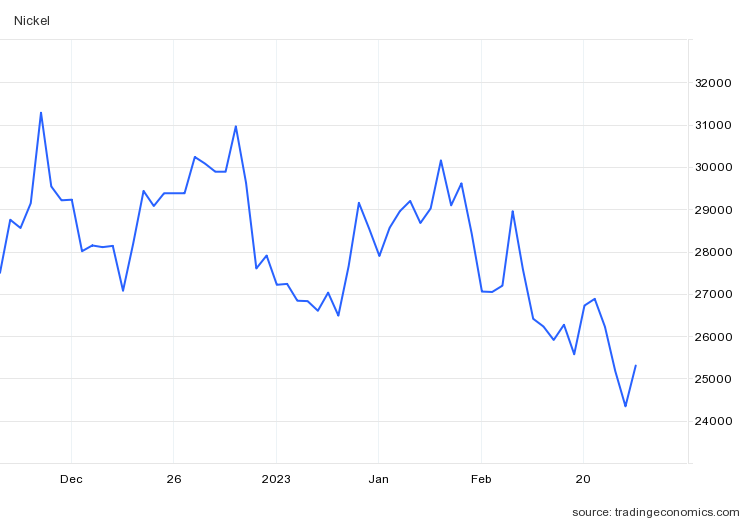 Molybdenum, a metal mainly used as an alloying agent in stainless steel, has reached highs not seen since 2008. It has increased 106% since the beginning of 2023. This has resulted in increased surcharges for all alloys using it in any quantity (e.g., 316/316L). Note, Ward has begun documenting two additional months of surcharges for C276 and 625 alloys due to the rapid increase we are seeing. Keep an eye on C276 as we saw a surcharge jump of $0.97 from February to March. Note: As we enter March, we experienced the first downward trend for molybdenum since August of 2022.
Commodity stainless and Duplex plate deliveries look to be in the 12 to 15 week range, while Nickel alloy plates range from 14 to 20 weeks. Carbon Steel plate mill deliveries reside in the 6 to 10 week delivery range.
Welded tubing –Smaller quantity deliveries remain in the 8 to 13 week range, with larger quantity orders still in the window of 18 to 24 weeks. Carbon steel tubing deliveries have lead times ranging anywhere from 8 to 14 weeks when strip is available. Welded nickel alloy tubing ranges from 18 to 24 weeks. A tubing distributor has commented a certain mill is beginning to deliver orders early on a consistent basis. This is a welcomed sight after the uncertainty we all experienced over the past few years.
Seamless tubing – Current schedules reflect 10 to 20 weeks or more for carbon steel (24 to 26 weeks for Western European carbon seamless) and 8 to 30 weeks for stainless. Seamless nickel tubing is being offered at the 8 to 12 week delivery window so long as hollows are in stock. If hollows are not readily available, anticipate deliveries of seamless nickel tubing in the 20 to 32 week timeframe.
Please don't hesitate to reach out if you have any questions about the current state of our industry's material supply chain.
Here's the current surcharge chart for 304/304LSS, 316/316LSS, 2205, C276, and 625.
Nickel Prices have had an interesting ride over the past two decades with a low of $2.20/lb. in October of 2001 (following September 11 events) and a high of $23.72/lb. in May of 2007. Surcharges trail Nickel prices by approximately two months, so they would have been at their lowest in December of 2001 (304 was $0.0182/lb.) with the peak in July of 2007 (304 was $2.2839/lb.).
The chart below illustrates Nickel price by way of U.S. Dollars per Metric ton.
Here's the Price Index for Hot Rolled Bars, Plate, and Structural Shapes.