These specification heavy vessels were needed for a turnaround this fall to replace the (4) existing 304SS vessels at the site that were failing. Within a short period of time, drawings were approved and materials were rolling into our facilities. The heads and shells were 1 ¼" thick carbon steel with 1/8" minimum thickness Alloy 625 explosion bonding. The nozzles were heavy barrel forgings with A-625 weld overlay to 1/8" minimum undiluted thickness after machining on the IDs and faces. Our partners stepped up and we were able to have heads, formed cylinders, nozzles and other remaining materials just in time to avoid any delays or stoppage in the fabrication process. All pressure seams were welded out via sub-arc and 100% radiographed.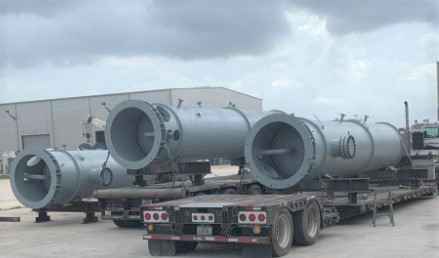 The seams were then restored with a 3 pass minimum A-625 weld overlay and x-rayed again to ensure that there were no flaws in the welds prior to post weld heat treatment. In addition to 100% x-ray, other NDE required after PWHT was PMI of all alloy material, LPT of all pressure and alloy welds, shear wave UT testing of nozzle to shell welds and hardness testing of all pressure boundary welds and heat affected zones. After successful
completion of NDE, the vessels were hydrotested, delivered to the painter who turned them around very quickly, internals were installed and the vessels were prepped for shipment.
Thank you for an "all in" effort by Team Ward and all of our strategic partners involved for making this quality project exceed our Customer's expectations. Well Done! We were able to complete these (4) vessels 2 weeks ahead of schedule and allow the site additional time to offload, insulate and install. TEAMWORK at its finest!